News
20.03.2020
Nafi's tips for weathering the covid madness
Now that Spring is just around the corner and the sun has finally started to shine here in Belgium, the coronavirus situation is spreading globally, facing us all with isolation, lockdowns and social distancing. What should have been a jolly couple of weeks with a warm-weather training camp and exciting side-projects, has turned into a crash course in quickly adjusting to the new normal while keeping a positive and optimistic state of mind. Or how life keeps reminding us that it will always come in different packages than you expect it to… It's impossible to say what the near future looks like but Nafi is encouraging to remaining calm and optimistic and is happy to pitch some positivity your way!
STAY ACTIVE
Like many of you, most of Nafi's plans have either been canceled or postponed and with tracks and gyms being closed, it hasn't been easy to get the workouts in (the struggle is real). But the Olympics are still on her calendar so Nafi's determined to stay focused and productive during her solo time. Earlier this week, she's put together an improvised gym in her garage so now more than ever, it's time to get creative with at-home exercises and workouts and embrace this new reality so she stays fit and ready to go once the worst is behind us and normal life is resuming. During this time it's so important to stay physically healthy and as Nike's Bill Bowerman says: "if you have a body, you're an athlete" meaning there are no excuses not to stay active yourself!
PRACTICE SELF-CARE
Life can get busy! No matter the season, track life can be a stressful balancing act making it challenging to carve out time for some r&r. But also when it comes to your mental wellbeing, there are no excuses not to take care of yourself #notetoself. Nafi works hard so it's important to recover hard too! Self-care looks different for everyone (spoiler: there is no right or wrong) and now that we have no other choice but to spend our days and nights indoors, maybe now is a good time to get in some extra relaxation time. Your intake is so crucial: what you're watching, who you're having conversations with, what you're reading, listening to, etc. should be bettering your mindset. Those of you who have been tagging along know reading novels and staying connected with family and friends are just two ways of how Nafi likes to spend her restful time.
HALT NEGATIVITY
This unprecedented covid crisis is biting hard and it can be challenging to keep your head in the game and think good thoughts. While there are so many uncontrollables, try finding strength and confidence in the things you can control like guarding your own mindset and thinking in solutions rather than problems. As an athlete, training and staying in shape is super important for Nafi but she tries to put things in perspective since the priority now is to fight and overcome this pandemic together. In case you're feeling the pressure more than ever, trust the process, always.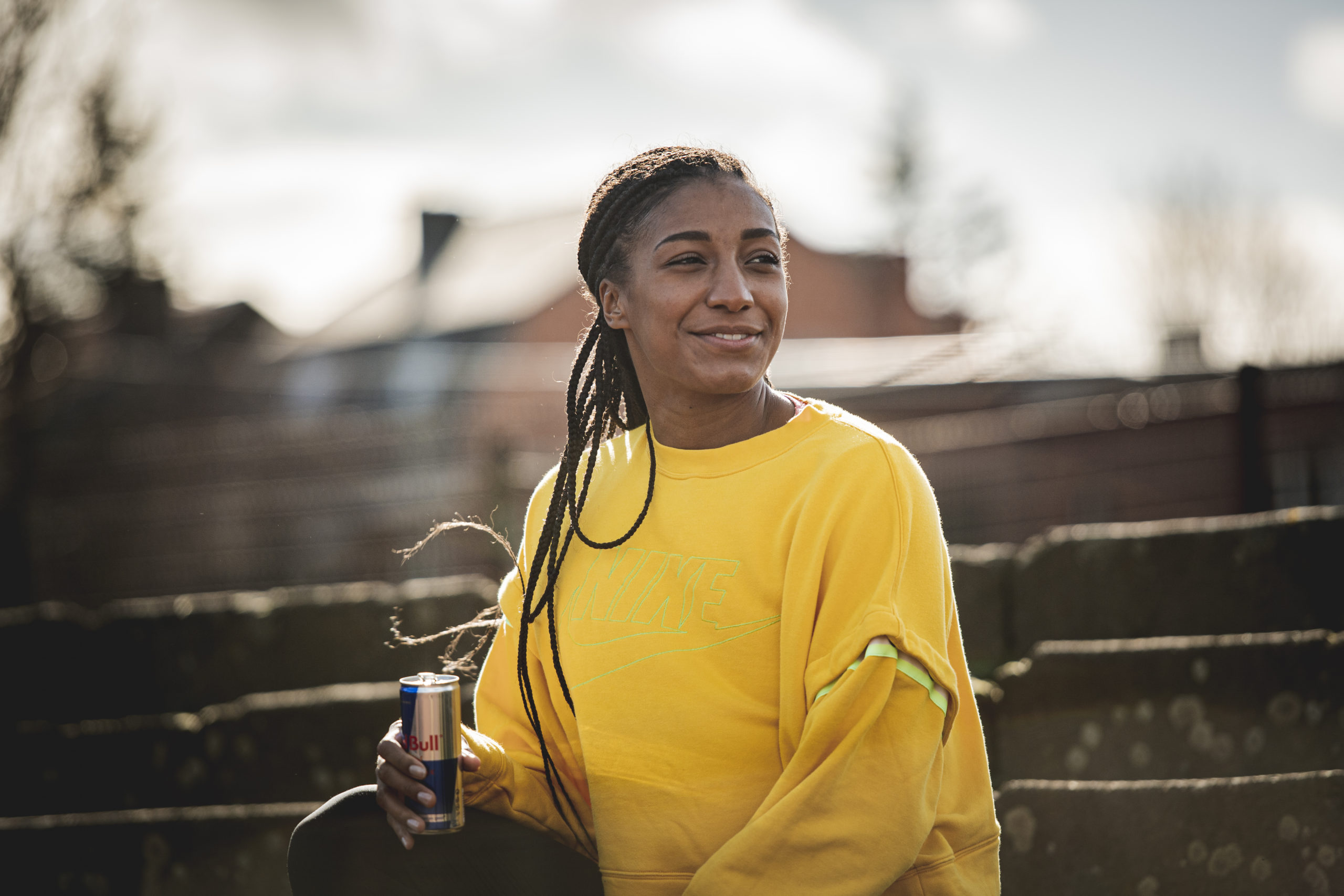 BE GRATEFUL
We're all going through strange and uncertain times but Nafi's feeling more grateful than ever to be healthy and injury-free. Even though she may have to train a little differently (Coach will have to put his thinking cap on), she's glad she still can and is even more determined to make every workout count! She finds it helpful to reflect on the positives and focus on the small things. Even if the consequences of the coronavirus would become more detrimental to the sport that Nafi loves so much, she realizes that her family and herself being in good health is truly something to be grateful for. (repeat 3x)
CHOOSE HEALTHY
Let's face it, we can all use some good food right now. Try to make sure that what you're consuming is making you feel good and energized and boosting your immunity. All the more, stay hydrated drinking a healthy amount of water (1,5 – 2l/day according to the experts) and eating healthy, nutritious foods. It's a great reminder to love your body and fill it with healthy + tasty things but also not to overthink it.
FOLLOW GOVERNMENT ADVICE
As a professional athlete, Nafi always wants to work hard and train but this pandemic is bigger than track and field or any other sport and needs to be taken seriously. We all have a role to play in this situation! Let's keep the greater good in mind, protect our families and community by staying at home, only venturing outside when necessary and practicing social distancing so we can #flattenthecurve.
We know it's easy to go low but let's focus on the silver linings and long term instead. Sending you all some calmness and positive vibes!